Your System for Award Management (SAM) and Small Business Administration (SBA) profiles are critical elements in the federal contracting marketplace. Those are the profiles that federal decision makers, and potential teaming partners and prime contractors are going to look at before deciding to do business with you.
How well do your profiles stand up to scrutiny? If you're anything like the 186 randomly selected businesses TargetGov evaluated profiles for – the outlook is not so good.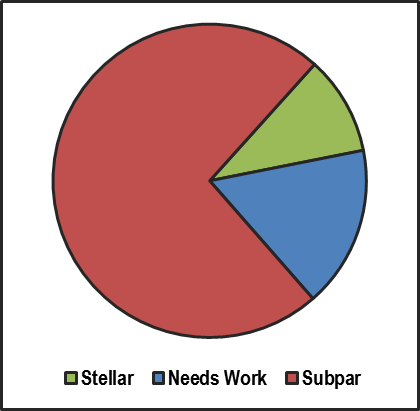 We evaluated both the SAM and SBA profiles for these companies and ranked them with a letter grade. A's and B's we considered "Stellar" C's we considered "Needs Work" and D's and F's are "Subpar." In fact, if your company would receive a D or an F then there's a good chance it is hampering your efforts to do business with the government.
Of the 186 companies we sampled, 19 were Stellar, 31 needed work, and 136 were subpar.
And that's why you need to go to your SAM and SBA profiles right now and run through them thoroughly. Do you have multiple points of contact? What are your PSC Codes? Have you listed recent past performance? Are your keywords updated to actual client needs?
Or, if you really want to know what gaps might exist in your SAM or SBA profiles, you could purchase our new evaluation to receive expert consulting on where your profiles could be improved.
We can help you by reviewing your existing registrations and giving you detailed feedback and recommendation to set your company apart from your competitors. Click here for more information.