TargetGov provides expert consulting services and business development products to large, medium and small companies that have directly resulted in clients winning billions of dollars in federal contracts.  Our company is committed to helping all of its clients reach their contracting goals in the federal marketplace.
While small, minority, disadvantaged, veteran and women-owned companies all work with TargetGov, so do large systems integrators, large service and product companies as well as manufacturers, resellers and distributors. Companies throughout the U.S. have taken advantage of the TargetGov services and products, as have international companies that also want to sell services or products to the U.S. government or military.
Call or email TargetGov today to discuss how we may help you achieve success in business selling to government agencies.
TargetGov is the creation of Marketing Outsource Associates, Inc. (MOA), a woman-owned, full-service marketing company founded in 1997 by Gloria Larkin.
The company's original focus was to help companies of all sizes, located throughout the United States, to focused on the business–to-business marketplace, develop a targeted marketing process that delivered a high ROI and resulted in new customers and higher revenues.
In 2000, after seeing success with the MOA targeted marketing approach, two private sector companies asked MOA to help them enter the federal marketplace.  Gloria Larkin agreed to tackle the market with them and discovered out just how difficult, convoluted and confusing the government marketplace is for companies of all sizes and abilities.
Larkin invested two years and hundreds of thousands of dollars in developing TargetGov; with a variety of resources including expert consulting through webinars, and subject matter experts providing consulting and coaching support in the federal marketplace.
About Gloria Larkin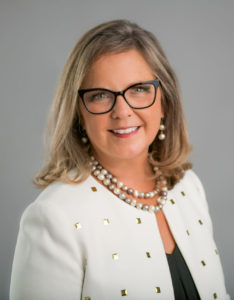 Gloria Larkin is the President and CEO of TargetGov. TargetGov celebrates its 26th anniversary in 2023 and focuses on government contracting, business development, recruiting, RFP/GSA support and marketing services including the exclusive Federal Acceleration Strategies and Tactics FAST® Process, the KickStart Program®, Capability Statements, certification services, business development, and expert federal contracting services, marketing communications and calendar development and execution.
TargetGov clients have won over $10 billion in federal contracts. Gloria has been quoted in the Washington Post, INC Magazine, Wall Street Journal, Government Executive Magazine, the Daily Record, American Express Trends and Insights and Bloomberg. She is the author of The Basic Guide to Government Contracting, The Veterans Business Guide: How to Build a Successful Government Contracting Business, and of hundreds of federal contracting articles in print and online. Gloria is also the Educational Foundation Board Chair Emeritus for WIPP.org and the American Express National Procurement Advisor.
She has created the Government Business Development Webinar Series focusing on business development processes for the US Federal Government defense and civilian agencies producing over 300 webinars, videos and podcasts. She has been recognized by: Enterprising Women Magazine's 2010 Enterprising Women of the Year honoree, Women Impacting Public Policy (WIPP) National Educational Foundation Past Chair, and SBA's 2010 Women in Business Champion, Maryland. She has spoken at: hundreds of national federal agency and business conferences including the Department of Energy, Department of Veterans Affairs, the Social Security Administration, National Veterans Small Business Conference, National Women Business Owners Corporation National Conference, and Johns Hopkins University Carey Business School "Art of Entrepreneurship" Annual Conference. To learn even more about Gloria Larkin Click Here.
What are people saying about TargetGov?
"Gloria fully understands and is able to articulate the business development lifecycle for federal contracts. She has key insights into finding opportunities, communicating a capability message to the prospect, and then capturing the opportunity. She is able to teach, mentor, or act as a strategic partner in any business development effort."

Dennis Smythe,
Vice President NMR Consulting
"No one knows federal contracting and marketing to the federal government like TargetGov. Gloria Larkin has built a company that understands the process and makes it happen for all business owners saving them time and money!"

Barbara Kasoff,
Former President/CEO, WIPP
"If you need to do business with the Federal Government, you need to connect with TargetGov. Gloria and her experienced team have their fingers on the pulse of marketing and selling to the Feds. She is also a top notch business woman!"

Jon Bailey, President,
Wood Street, Inc
"Over the years TargetGov has become an essential part of our team. With the depth of their knowledge and experience, Gloria and her team are the resources that we depend on."

Dina DiPalo
"TargetGov knows how to help their clients navigate the complex, perplexing process of Federal government business development from start to finish. The entire team possesses broad-based experience coupled with a host of productivity enhancement tools concentrated within the company."

Theo Bell
"Gloria is a true professional with great enthusiasm for helping others succeed. If you need something done, ask Gloria to do it. You can be assured it will get done on-time, within budget. Great team leader and hands-on manager."

Nancy LaJoice, Membership Director,
Baltimore/Washington Corridor Chamber of Commerce


Click Here to see Gloria Larkin on wsj.com


Click Here to see Gloria Larkin on thestreet.com.


Click Here to see Gloria Larkin on bizmonthly.com.
Read Gloria Larkin's recently published articles on bizmonthly.com