A Capability Statement is a critical tool to help you be as successful as possible, no matter what size company you represent.  Successful firms use their Capability Statement for a number of purposes:
Required in many government registration processes
A door-opener to new agencies
Proof of qualification
Proof of past performance
It will set you apart from your competitors
"Thank you very much for your review of our Capability Statement. We have been constantly revising it trying to figure out what works best, and this review is exactly what we have been needing."

-A. King
"You helped us last year revising our Capability Statement and it has served us very well since then!"

-V. Williams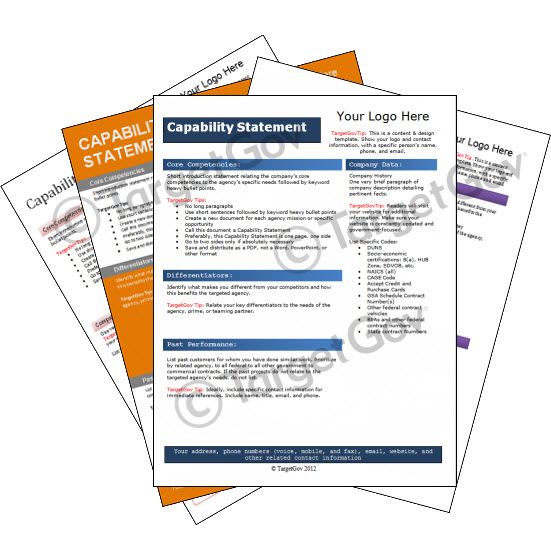 Use these tools from TargetGov to help produce winning Capability Statements:
Both the government and private sector markets use a very unique business development tool called a Capability Statement. During this webinar you will learn how to create a powerful door opener Capability Statement document, your most important business development tool. However, very few contractors know how to create an effective document and acquisition personnel are subsequently buried by generic capability statements, making it very difficult to quickly evaluate and select those that fit specific needs. Learn how to stand out by crafting a compelling Capability Statement that will capture the interest of contracting personnel, teaming partners and prime contractors.
Click here to learn more.
Capability Statement Review and Recommendations
Does your Capability Statement have what the government is looking for? Are you missing key information? Use TargetGov's  Capability Statement Content Grader to see where you rank. Learn how well your Capability Statement ranks in 5 key areas:
Key Information
Core Competencies
Past Performance
Differentiators
Company Data
We know what government decision-makers look for. Our Capability Statement Specialist will review your document. After the review, you will know what you have done right and what is missing.
You will receive a code in your email upon purchase. Simply e-mail your Capability Statement and the code. We review, then reply with suggestions, tips, and pointers.
All of your information is confidential.
Choose from four different styles of templates to help you create your capability statement. Use the TargetGov Capability Statement Editable Template to ensure that you have included all the information the government is looking for. This template will help keep you within the length guidelines. When you're finished, you'll have a document ready to present to government officials. This easy-to-use template is Word-based. You can simply replace the prompts with your own information. You can edit the colors and graphics to fit your company's look. The exclusive TargetGov tips will keep you on track. To order click on your preferred template style. They are available for instant download.
Click here to view our one-page templates
Click here to view our two-page templates
It's all about YOU.
Your Logo. Your company. Your Custom Capability Statement template.
Capability Statements are essential to grow a business in the federal marketplace. Capability Statements, branded to your logo, create instant recognition.
Your Color Customized Capability Statement template achieves branding on your document so that you can complete the most important part of the Capability Statement, the content.
Click here to order a Custom Capability Statement Template.
Take a breath! We can do it for you.  Contact us NOW to start the process of us doing the work for you.
Work smarter, not harder. It takes real work to develop the content for your essential Capability Statement. You cannot move forward in government contracting without it. Work with TargetGov's experts to develop a solid Capability Statement that works for you instead of against you.
Capability Statement Consultation Service includes:
Consultation with a TargetGov Capability Statement Expert
Development of high-quality content
A fully editable, one-page Capability Statement
Instructions on how to tailor for maximum effect