Artificial Intelligence: Powerful Procurement Impact Underway
By Gloria Larkin
In a recent presentation for the Ft Detrick contracting community, a contracting officer shared this anecdote: The contracting office in which he works used to employ over 150 people. Now in 2021, 43 people remain, who are tasked with larger spending budget responsibilities and increased pressure to turn around acquisitions quicker, with fewer protests and to conduct smoother contract close-outs.
This pressure to do more with less, improve efficiency, reduce costs and meet citizen, constituent or customer needs driving all civilian and defense federal agencies is a perfect storm of opportunity to embrace artificial intelligence (AI) and related technologies. However, the challenges in pivoting to AI in procurement processes can and will leave many vendors, large and small, out of consideration if they are not aware of or know how to embrace these changes.
While big data and artificial intelligence are natural fits in healthcare and warfighter solutions, few contractors grasp the sea change in progress in federal procurement affecting market research, acquisition strategy development, solicitations, source selection, contracts, spending data, contractor performance reports, procurement policies and regulations, contract specifications, correspondence, presentations, debriefings and contract closeouts.
On the government side of the table, AI tools and personnel commitments are growing exponentially  with more than 2,000 government managers from over 300 federal, state, and local agencies, and representatives from industry technology startups, small businesses, and leading research and civic organizations developing government-wide IT modernization initiatives through the evaluation and strategic management of emerging technologies including AI, Robotic Process Automation, Blockchain, and Virtual and Augmented Reality according to the General Services Administration (GSA) Emerging Citizen Technology Office (ECTO)1.
Background:  What is Intelligent Automation?
As identified by the IBM Center for the Business of Government, Intelligent automation (IA) refers to a new capability that leverages processes and technologies in ways that allow people to optimize their work — moving burden from humans to technology – and has the potential to redesign the way work gets done within an enterprise.  Components of IA include:
Robotics Process Automation – An emerging form of clerical process automation technology based on notion of software bots
Artificial intelligence – The application of systems equipped with software that simulates human intelligence processes
Natural language processing – The ability to understand human speech
Predictive analytics – The practice of predicting outcomes using statistical algorithms and machine learning
IA addresses multiple challenges facing agencies across mission support areas ranging from document processing to financial operations2.
Effective use of IA helps lowering costs by:
Managing large and repetitive transaction volumes
Shifting limited resources to higher value work
Providing quality control
Operating within constrained budgets
Improving user experience and process2.
Key Federal Agency Participation
In AI-related accomplishments, the GSA and the U.S. Department of Defense's (DOD) Joint Artificial Intelligence Center (JAIC) announced on October 27, 2020 five achievements that accelerated the JAIC's operational maturity. The accomplishments listed below come from the one-year partnership with the Centers of Excellence (CoE), housed within GSA's Federal Acquisition Service's Technology Transformation Services (TTS).
Designed agile acquisition for AI;
Unified program management and infrastructure support;
Enabled environments for Artificial Intelligence (AI)/Machine Learning (ML)/DevSecOps for the Joint Common Foundation;
Implemented data management procedures; and
Supported creation of the First Five Consortium3.
Dan Chenok, Executive Director at the IBM Center for The Business of Government authored a recent article4 recapping the success of AI at U.S. Department of Homeland Security (DHS) where he noted that Sandra Oliver Schmidt, Knowledge Management Lead with the Procurement Innovation Lab (PIL) at the DHS recently spoke about the role of AI in helping DHS work with industry to test and implement new approaches to increase efficiency across the acquisition lifecycle.  Schmidt's insights are relevant to agencies across government as they modernize procurement and related systems at DHS. Her focus is particularly relevant to the process of procurement market research where AI proved an effective tool. Schmidt stated "…The PIL is a virtual lab for experimenting with innovative procurement techniques.  Procurement teams across DHS can come and experiment with innovative techniques, a capacity needed to help the workforce use existing flexibilities5…"
CPARS and AI at DHS
A specific application of how the PIL assesses the promise of AI involves the Contractor Performance Assessment Reporting System (CPARS), which supports the acquisition community the government in understanding data on past performance by Federal contractors.   This has historically involved a long and cumbersome process of gathering data from companies. The PIL used a DHS authority called the Commercial Solutions Opening Pilot (CSOP)6 authority — allowing rapid purchase for certain innovative commercial items under $10 million to call for information from companies who could use AI to quickly find and analyze relevant CPARS data.
Schmidt reported: "Ideally, when I go back to operations as a contracting officer, I could feed my solicitation into the CPARS AI tool, and the AI will be able to analyze CPARS to rapidly identify records for each offeror that are relevant to my solicitation and it will provide me with a report. It will give me insight into the CPARS data so that my team and I can make a decision regarding that company's past performance. 7"
The objectives of AI at the DHS PIL include:
Lowering entry barriers for innovation, and allow non-traditional contractors to compete for DHS business opportunities
Shortening time-to-award
Encouraging competition by providing vendors with a greater understanding of the goals and objectives of each procurement and;
Increasing the likelihood of successful incomes by focusing on evaluation techniques to obtain the most qualified vendors8.
Market Research
Earlier in the procurement cycle, GSA is using Robotic Process Automation (RPA) to conduct market research on behalf of any federal customer through their Market Research as a Service (MRAS.) The MRAS defines and identifies suppliers and contracts, researches and identifies supplier capabilities, accesses hundreds of existing market reports and provides a market plan including socio-economic status, appropriate contract vehicles, and other recommendations9.
Contractors can become proactive in their positioning by understanding all the databases the government uses to store and more importantly, search or data-scrape contractor information including but not limited to SAM.gov, beta.sam.gov, the SBA's Dynamic Small Business Search, CPARS, DSS, and individual agency-specific databases such as NSA's ARC or HHS's mysbcx.hhs.gov. Even fine-turning one's own company website and social media presence to reflect the needs of targeted customers is critical in the new AI-focused environment. Identifying specific keywords and phrases exactly matching upcoming requirements and seeding such content in appropriate databases will increase the possibility of being found by the AI tools now in development and use by contracting personnel.
Full Procurement Cycle AI Involvement
Antonio J. Reynolds and Kendra Perkins Norwood coauthored the October 2020 Wiley Law newsletter where they stated: "…Many agency procurement offices already rely on AI to maximize efficiencies. For example, the U.S. Department of Health and Human Services (HHS) uses AI to consolidate contract vehicles, and both the U.S. General Services Administration (GSA) and the National Aeronautics and Space Administration (NASA) deploy robotic process automation bots – essentially, software-based "robots" that can learn, mimic, and then execute rules-based business procedures – to assist with their procurement processes. The U.S. Navy also relies on AI to provide real-time supply chain data, and many other agencies are using AI to reduce or eliminate procurement workload backlogs. Through automation, some manual contract administration activities could eventually be phased out altogether, including market research, contract modifications, invoicing, and award fee determinations. That possibility increases for high-volume contracts, such as GSA multiple award schedules, blanket purchase agreements, indefinite delivery contracts, and governmentwide acquisition contracts (GWACS). But automating those tasks could have significant adverse financial impacts for contractors, if errors occur without detection or effective resolution10…"
Competitive Issues
Reynolds and Norwood continue their comments with a nod to competition: "…Big data combined with AI could make entry into the government contracts marketplace much easier for small and emerging businesses, as well as first-time contractors. These technologies could be used to generate lists of recommended contract opportunities that companies are eligible to bid on, together with the exact contract requirements, applicable regulations and any useful metrics to inform their decisions to pursue certain opportunities. They could also help match up vendors with potential government customers. This would lower barriers to entry for companies that traditionally avoid working with the government because of the complicated acquisitions process and a regulatory regime that may be too difficult or burdensome to navigate. For well-established contractors, however, increased competition could make it much harder for them to win new contracts or retain the ones they currently hold11…"
Conclusion
Fundamental transformation in federal contracting is now driven by extraordinary crises of supply chain failures, a worldwide pandemic, remote workforces, an aging workforce retiring in droves, a technically savvy but inexperienced younger replacement workforce, climate change stresses, international relationships and political issues. Contractors focused on growth and remaining competitive in the pivoting federal marketplace will be well served to align with intelligent automation techniques such as artificial intelligence and robotic process automation bots to incorporate tactical keywords and phrases in progressive marketing strategies to succeed in 2021 and beyond.
Communities of Interest and resources include:
The American Council for Technology and Industry Advisory Council (ACT-IAC) has an artificial intelligence community and playbook. The General Services Administration on the civilian side has an AI community of interest as well and other communities that are focused on RPA, in blockchain and other elements of Intelligent Automation suite.  The Periodic Table of Acquisition Innovations serves as the government-wide acquisition knowledge management portal for innovative business practices and technologies and is located at https://www.fai.gov/periodic-table. The IBM Center and the Business of Government have issued multiple reports and issue briefs for government and industry, which can be found at www.businessofgovernment.org/reports.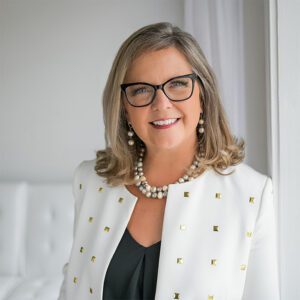 Gloria Larkin is the President of TargetGov where in 2021, the company celebrates 24 years serving the federal contractor marketplace. The company has helped thousands of contractors develop effective strategies and tactics to win billions of dollars in federal contracts through the FAST® Process and the KickStart Program® as well as offering full consulting services, GSA and RFP support, business development recruiting and marketing processes.
Sources