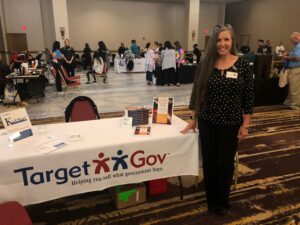 The Veterans Healthcare System of the Ozarks and the Arkansas Small Business Association (SBA) partnered to host the 7th Annual Northwest Arkansas (NWA) Better Vets Community Summit.  This annual military veteran-centric event focuses on providing veterans with resources across the region, with an emphasis on suicide awareness, employment, and small business resources.
Caroline Dotson, the Veterans Administration (VA) Summit Coordinator and Jeff Salzer, the NWA SBA Area Manager, provided opening remarks to discuss these focus areas.  It was clear from the opening remarks, one of the highest priorities of the event was to ensure every suicide-minded veteran learn of the help available through the VA.  Based on a report published by www.Military.com the current suicide rate among veterans is an average of 20 suicides a day.  Veteran suicide has become such a critical issue, the Department of Defense and Veterans Affairs have teamed up to hold a suicide prevention conference in Nashville in August 2019.
According to the Bureau of Labor Statistics, the current veteran unemployment rate is 3.4% and the 22 NWA businesses attended the Summit to help make that number even lower.  Likewise, in addition to the VA and the SBA representatives, AJ Raiber, VA Office of Health Information, and Max Franks of the NWA PTAC, and companies such as TargetGov were on-hand to provide small business resources and free consultation.
Several veterans expressed their gratitude at having small business resources that had done what they seek to do; pursue and WIN business with the federal government. We were able to direct several to the free resources at the PTAC and SBA while others we were able to provide free, expert, advice at the Summit.
The TargetGov KickStart Program™ is an affordable, individually customized program, designed to propel businesses into the Federal market and position the organization for success. For more information about the TargetGov KickStart Program™ and how it supports your firm's growth in the federal market, contact us at 800.579.1346 x320 or email cindygaddis@targetgov.com.