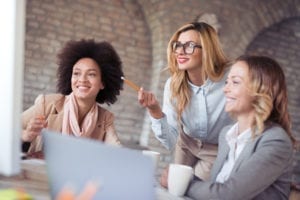 The U.S. Small Business Administration (SBA) has announced that starting July 15, 2020, the certification process for Women-Owned Small Businesses (WOSBs) and Economically Disadvantaged WOSBs (EDWOSBs) will begin to change as the SBA implements Congress' changes to the WOSB Federal Contracting Program, as put forth in the 2015 National Defense Authorization Act (NDAA).
The timeline for implementation of changes to SBA's WOSB Federal Contracting Program has been moved to July 2020 to accommodate those affected by the current COVID-19 pandemic.
Deadline Details
Updated deadlines include:  a) the current self-certification process will remain available for firms until October 15, 2020, at certify.sba.gov; b) until July 15, 2020, certified WOSBs must download their documentation, currently housed in the WOSB Program Repository at certify.sba.gov; c) on July 15, 2020, firms can begin submitting applications under the new certification process for initial processing; d) on October 15, 2020, SBA will begin issuing decisions on certification.
The SBA has not yet posted the actual web location or instructions for the new certification process, saying those details will be posted prior to July 15 at sba.gov/wosbready.
Major Changes
As of July 15, 2020 the WOSB program changes are effective in this new, free online certification process for WOSBs and EDWOSBs. Veteran-owned firms certified by the U.S. Department of Veterans Affairs Center of Verification and Evaluations are allowed to participate, provided they meet all eligibility requirements. Businesses utilizing SBA-approved Third-Party Certifiers (TPC) to obtain WOSB or EDWOSB certification will continue to be allowed to participate.
All firms that are certified through an approved TPC will have to create a new account in the new certification platform and upload their TPC certificate for SBA to complete initial processing. TPC-certified firms must recertify three years after the date of their most recent recertification as a TPC-certified firm.
The SBA will also totally eliminate the current self-certification option from certify.sba.gov, effective October 15, 2020. Currently self-certified WOSB firms with no active contracts will need to get formally certified by SBA under the updated process to compete for future WOSB Program set-aside contracts.
These WOSB program changes are intended to make it easier for qualified small businesses to participate in the WOSB Federal Contracting Program.  They also intend to strengthen the oversight of the previous self-certification process, and more efficient for contracting officers to set aside contracts for, and make awards to, firms certified as WOSBs and EDWOSBs.
Government Accountability Office
According to a recent Government Accountability Office (GAO) report published April 15, 2020,  the WOSB program has reached the 5% set-aside contracting goal only once in 2015. It also states that the program has been fraught with certification challenges.
The new WOSB Federal Contracting Program regulations detailing the changes to the certification process were published in the Federal Register at https://www.federalregister.gov/ on May 11, 2020.
Gloria Larkin is President and CEO of TargetGov, the American Express Procurement Advisor and a national expert in business development in the government markets.  Email glorialarkinTG@targetgov.com, visit www.targetgov.com or call toll-free 1-866-579-1346 x 325 for more information.