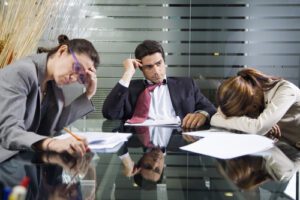 One of the most impactful changes successful companies in the federal space have embraced is creating and executing a year-long proactive corporate marketing process. This marketing recognizes the value of pursuing a complete range of customer targets which include both government agencies and their related decision-makers, along with other large and small companies as potential business partners who serve as subcontractors, primes, teaming partners, mentors, or proteges.
The federal government has over two hundred distinct agencies, each with individual purchasing power, processes, and multiple layers of decision-makers. It is impossible to market effectively to everyone, and in fact, attempting to do so proves more harmful than helpful.  A mass marketing strategy which fails to focus on specific targeted requirements results in decision-makers who quickly black-list companies who waste their time with non-specific mass marketing tactics. Instead, a successful marketing strategy begins by identifying key short-, mid-, and long-term government agency targets and their specific opportunities coming up in the next six to thirty-six months.
All layers of decision-makers must also be identified for each target customer.  Excluding any individual usually results in lowering the probability of winning the target opportunity.  Ideally, building a proactive marketing strategy simultaneously addresses various audiences, a wide range of size of contracts, and a blend of tactics using virtual, in-person, and remote contacts.
The federal government is an event-rich marketplace. One could attend an event every week, but if not focused, well-prepared, and using trackable follow-up processes with specific information, the efforts and expense will be wasted.
There are four killer mistakes to which many companies fall victim:
Red-hot Reactives
These companies are in the constant state of chasing opportunities and capture is their favorite word they fail to act upon. They are rigidly only opportunity-focused and fail to identify and build strong relationships with all decision-makers involved. Their marketing activities are very limited and tend to focus on feel-good but non-productive meetings with non-decision-makers. They constantly scour opportunity listings and chase the next shiny opportunity without an agency-wide marketing and business development strategy in place.  As a result, these companies consistently see low win rates and high proposal costs.  An image of a hamster on a wheel comes to mind.
Event Exasperation
Event attendance is an excellent method to get in front of many customer targets at once; however, these should be strategically planned and budgeted well in advance.  The expense of attendance, booth space, travel, and lost time costs far exceed the budgets of large and small companies alike.  Choosing strategic events, performing thorough research beforehand, planning in-person meetings with specific decision-makers, and satisfying the TargetGov Rule of Three™ will turn an event into high return on investment activities. Without an action plan before, during, and after the event, most discover they have gone a long way for an expensive lunch.
Black-hole Advertising
Typical ad buys for radio, television, or printed publications offer minimal to non-existent trackable benefits to the federal contractor. Companies who have seen results from advertising in the private sector often take this tactic as a given in the federal government not realizing that broad mass advertising is virtually useless for companies with limited budgets.
Social Media Misuse
Most contractors have little grasp of effective social media usage. Typical usage may include LinkedIn, Facebook, and Twitter venues, but the misuse is only thinking of social media as a bullhorn to disseminate information rather than a two-way communication tool with which to engage government and commercial customers along with other prospects.
The TargetGov KickStart Program® is an affordable, individually customized program, designed to propel businesses into the Federal market and position the organization for success. Marketing Calendar and Tactics provides the information necessary to market and WIN with target clients all year long and is one of the fourteen key take-aways covered within the KickStart Program®. For more information about the TargetGov KickStart Program® and how it will support your firm's growth in the federal market, contact us today!  800-579-1346 x325 or email KickStart@targetgov.com