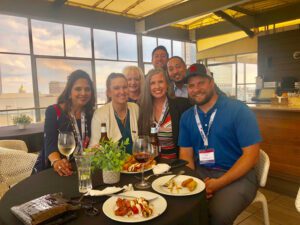 Thanks to the HUBZone Contractors National Council for the invitation to present "CPARS and Open Ratings:  How they impact your current bid" at this year's HUBZone Small Business Summit. Although it was my first time to present at this event, it's clear this organization, the Small Business Administration (SBA), and large business alike are focused on and dedicated to the growth and future development of HUBZone businesses.  The focus was primarily on proposed changes to the HUBZone Program, matchmaking and networking, along with small business training. 
Wallace Sermon, Deputy Director for the Small Business Contracting for the Environmental Protection Agency (EPA) and Ashley Bell, Region IV Small Business Administrator for the SBA both highlighted many of the proposed changes to the HUBZone Program.  Michelle Burnett, Executive Director for the HUBZone Contractors National Council, was sure to remind all attendees, until all proposed rules are final, the current HUBZone Program remained in effect.   
Attendees also had the opportunity to pre-schedule matchmaking sessions with large business primes, industry leaders, and various agencies on day 2 of the Summit.  The networking opportunities were also plentiful with time set-aside to visit resource tables and meet other small businesses. 
Small business training sessions were also offered on day 2 and offered a wide variety of training from which to select, one of which was the TargetGov Contract Performance Assessment Reporting System (CPARS) Training™.  At the end of this training, the attendees knew how to: 
demonstrate past performance 

without a 

g

overnment contract

 

obtain an EXCEPTIONAL rating on every contract

 

use CPARS 

ratings 

to grow capabilities

 

use CPARS 

rating 

to win current and future bid

 
In short, this 2-day, fast-paced event provided small businesses either already in the HUBZone Program or those seeking to join the Program the opportunity to better understand the current environment, network, and gain valuable training as they seek to grow their organization. 
The TargetGov KickStart Program™ is an affordable, individually customized program, designed to propel businesses into the Federal market and position the organization for success. One of the key take-aways covered within the KickStart Program™ includes "CPARS and Open Ratings."  For more information about the TargetGov KickStart Program™ and how it supports your firm's growth in the federal market, contact us today!  800.579.1346 x320 or email cindygaddis@targetgov.com.