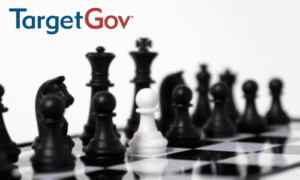 Eight Strategies to Win More Best Value Contracts
By Gloria Larkin
1. Have the PDF of the Federal Acquisition Regulation: Lowest Price Technically Acceptable Source Selection Process Rule Dated January 14, 2021 ready to send when necessary. Email glorialarkinTG@targetgov.com for the PDF of the rule.
2. Research the history of your target agency, i.e., is it holding onto the LPTA concept or have they segued to best-value, are the contracting officers (COs) inexperienced or well-versed, does the program level want experienced, informed contractors or are thy OK with in-experienced, low-price alternatives?
3. Be proactive in communications with all decision-makers including contracting, program level, and if a small business, the related agency representatives as well as the assigned Procurement Center Representative (PCR) regarding the upcoming opportunities you have in your pipeline—this must be done before the RFP is released.
4. Always use the TargetGov Rule of Three™ before meeting with any decision-maker, whether it is a contracting, program or small business levels. This will dramatically increase your P-Win!
5. Before you pursue pre-opportunity capability briefings, always determine your company's differentiators and metrics supporting those differentiators that shape the opportunity in your favor. Not sure how to do this? Contact our experts.
6. During the agency's vendor outreach sessions, pre-opportunity, and prime contractor capability briefings always be prepared with three or more opportunities to discuss ranging in target dates from now through the next year. Shape the opps around your differentiators and past performance.
7. Be relentless in regular, professional, persistent contact all year long, not just when the RFP is scheduled to hit the streets. If you wait that is too late to make an impact and causes your PWin to tank.
8. Fine tune your customer service and past performance rating process in a trackable, measurable system. Not sure how? Contact TargetGov!
FOOTNOTES: