Energize your event with a keynote speech by Gloria Larkin.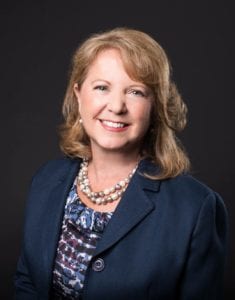 Gloria Larkin is the President and CEO of TargetGov. TargetGov celebrated its 21st anniversary in 2018 and focuses on government procurement and related business development and marketing services including the exclusive Federal Acceleration Strategies and Tactics FAST™ Process, the KickStartProgram™, Capability Statements, certification services, business development, and expert federal contracting services. In the business-to-business market, provides corporate business development and marketing-related services including current customer analysis to determine profitability, client profiling, targeted prospect identification and list development, database, marketing plan and strategy development, graphic design, marketing communications and calendar development and execution.
Her clients have won over $4.5 billion in federal contracts. Gloria has been quoted in the Washington Post, INC Magazine, Wall Street Journal, the Daily Record, and Bloomberg. She is the author of The Basic Guide to Government Contracting, The Veterans Business Guide: How to Build a Successful Government Contracting Business, and of hundreds of federal contracting articles in print and online.  Gloria is also the Educational Foundation Board Chair Emeritus for WIPP.org
She has created the Government Business Development Webinar Series focusing on business development processes for the US Federal Government and military targets. She has been recognized by: Enterprising Women Magazine's 2010 Enterprising Women of the Year honoree, Women Impacting Public Policy (WIPP) National Educational Foundation Past Chair, and SBA's 2010 Women in Business Champion, Maryland. She has spoken at: National Veterans Small Business Conference, National Women Business Owners Corporation National Conference, and Johns Hopkins University Carey Business School "Art of Entrepreneurship" Annual Conference.