Energize your event with a keynote speech by Gloria Larkin.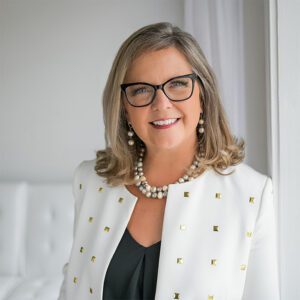 Gloria Larkin is the President and CEO of TargetGov. TargetGov celebrates its 26th anniversary in 2023 and focuses on government contracting, business development, recruiting, RFP/GSA support and marketing services including the exclusive Federal Acceleration Strategies and Tactics (FAST®) Process, the KickStart Program®, Capability Statements, certification services, business development, and expert federal contracting services, marketing communications and calendar development and execution.
TargetGov clients have won over $10 billion in federal contracts. Gloria has been quoted in the Washington Post, INC Magazine, Wall Street Journal, Government Executive Magazine, the Daily Record, American Express Trends and Insights and Bloomberg. She is the author of The Basic Guide to Government Contracting, co-author of The Veterans Business Guide: How to Build a Successful Government Contracting Business, and of hundreds of federal contracting articles in print and online. Gloria is also the Educational Foundation Board Chair Emeritus for WIPP.org and the American Express National Procurement Adviser.
She has created the Government Business Development Webinar Series focusing on business development processes for the US Federal Government defense and civilian agencies producing over 300 webinars, videos and podcasts. She has been recognized by: Enterprising Women Magazine's 2010 Enterprising Women of the Year honoree, Women Impacting Public Policy (WIPP) National Educational Foundation Past Chair, and SBA's 2010 Women in Business Champion, Maryland. She has spoken at: hundreds of national federal agency and business conferences including the Department of Energy, Department of Veterans Affairs, the Social Security Administration, National Veterans Small Business Conference, National Women Business Owners Corporation National Conference, and Johns Hopkins University Carey Business School "Art of Entrepreneurship" Annual Conference.
Sample of Previous Speaking Experience
An experienced speaker and trainer with past engagements including:
Department of Energy Annual Conference
Women in Government Construction Conference, Washington DC
MacDill SDVOSB/VOSB & SB Conference, Motivational Lunch Speaker, Moderator
Fortune 50 Prime Contractor: Social Media Planning Strategy
National Veterans Small Business Conference, The Dept. of Veterans Affairs, St. Louis, MO
Veteran Entrepreneur Training Symposium (VETS), Reno, Nevada
Keynote speaker: Johns Hopkins University Carey Business School "Art of Entrepreneurship" Annual Conference
OSDBU Annual Conference Workshop Session Speaker
Speaker at the National Women Business Owners Corporation National Conference
Speaker and discussion leader at AMEX OPEN for Government Contractors Summit for Success
International speaker and discussion leader at the University of Oxford Saïd Business School Power Shift Forum for Women in the World Economy 2013
Radio show and podcast guest for BusinessWeek.com and NPR affiliate WEAA 88.9 FM
Television show guest of Anne Arundel County and Howard County Public Television
Keynote Speaker for the Annual BWCC Government Procurement Fair
Teaching seminars at the Howard County Economic Development Authority Business Center
Keynote speaker at the Business Women's Network
Speaker with the Department of Homeland Security at UMBC Tech Center
Speaker at the Department of the Interior's Procurement Conference
Keynote speaker at Maryland Association of CPAs Government Contractors Conference
Lorman Education Services Distinguished Faculty
Recognitions
Women Impacting Public Policy (WIPP) National Educational Foundation Chair Emeritus
SBA's 2010 Women in Business Champion, Maryland
Enterprising Women Magazine's 2010 Enterprising Women of the Year honoree
Recognized as one of Maryland's Top 100 Minority Business Enterprises, 2012, 2008 and 2006
Women Impacting Public Policy Member of the Year 2007
Bravo Business Achievement Award 2007 recipient
Recognized as one of Maryland's Top 100 Women in 2010, 2007 and 2004
Recognized by Maryland's Governor's Office of Minority Affairs as one of the top Women Entrepreneurs and Top 100 Minority Enterprises in 2008 and 2006
"Business of the Year" by the Baltimore/Washington Corridor Chamber of Commerce
Featured in various nationwide publications including USA Today and Inc Magazine and quoted in Government Executive magazine
MOA marketing projects for Howard Transit received a national American Public Transportation Association (APTA) AdWheels First Place Award and a Transportation Association of Maryland (TAM) "Best Transit System in MD" Award
Past Instructor at George Washington University in the Continuing Education Division, teaching marketing and business practices workshops
Gloria Larkin, Enterprising Women of the Year 2010, Enterprising Women Magazine
Short list of places where Gloria has presented
What people are saying about Gloria Larkin