Basic Guide to Government Contracting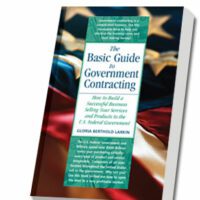 Every year the U.S. Federal Government and Military spend over $500 billion dollars buying services and products from companies located throughout the United States. Large and small companies can enter this market and be successful by using the strategies and tactics covered in this book.
This physical soft-cover book is 288 pages.
Description
The Basic Guide to Government Contracting will show you how to:
Determine if the federal market is right for your business
Register as a federal contractor
Locate the agencies that buy your services and products
Find the opportunities perfect for your company
Identify the real decision makers
Market your business with the decision makers
Price bids to win and still make a profit
"The Basic Guide" is my bible, I carry it everywhere and use it every day." –D. Payer
"I've been reading your book-it's a wealth of information!" – A. Batts