The Veterans Business Guide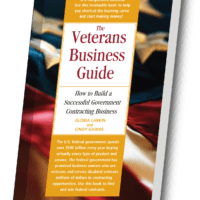 Look for new edition in 2024!
Every year, the U.S. Federal Government spends over $500 billion buying products and services of every imaginable type from businesses throughout the United States. Currently, 3% of those dollars are designated to veteran-owned companies in government spending goals. That amounts to over $15 billion in business opportunities! 
Government contracting is a complicated business. Use this invaluable book to help shortcut the learning curve and start making money! Chapters include what you need to start a government contracting business, issues specifically focused on veteran-owned businesses, how and when the federal government buys, effective marketing to the government, contracting strategies to win, identifying real decision-makers, mistakes to avoid, and no-cost resources available to help businesses succeed. 
Authors Larkin and Gaddis have helped clients win over $6 billion in U.S. federal contracts. In the Veterans Business Guide, they share proven, practical, actionable advice, along with a step-by-step process to see results in this unique, profitable market. Companies of all sizes, located anywhere in the U.S. can use this expert advice immediately.  
This physical soft-cover book is 263 pages.
Description
About the Authors: 
Gloria Larkin is President, CEO, and Founder of TargetGov whose clients have won over $5 billion in federal contracts through the proprietary KickStart Program™, FAST™ Process, Capability Statements, RFP response, GSA support, and employee recruiting services. Gloria is a nationally-recognized speaker and has been featured in the Wall Street Journal, Forbes, the Washington Post, Government Executive, Entrepreneur

,

 and INC magazines.

 

Cindy Gaddis, a U.S. Army Veteran and consultant, has over 14 years' experience within the 

f

ederal market; from marketing, business development, capture and proposal development, to contract and project management. Cindy has led both large and small business teams to pursue, and win, over $1 billion in federal contracts. Cindy speaks and teaches nationwide to help companies tackle the federal marketplace

.

 
Book Review: 
"The Veterans Business Guide acts as my bible of dealing with the government buyers. Before reading it I did not know what I didn't know. I go to it whenever I need to get an answer to a procurement issue.'' 
— Tom Roth, President, ATS World Packaging
"This book is a 'must have' for any company that wants to do business with the government. The clear explanations, tips, and recommended strategies will give you the competitive advantage you need to successfully land a government contract!'' 
— Beth Goldstein, Author and President, Marketing Edge Consulting Group