Crafting a Powerful Capability Statement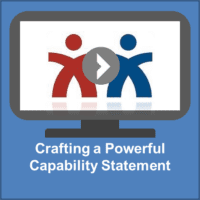 *This is a pre-recorded webinar*
Presented by: Gloria Larkin, President, TargetGov
During this webinar you will learn:
The key elements of a Capability Statement
The difference between Core Competencies and Differentiators
The exact content and format of past performance
Company data elements to include
How to avoid first impression mistakes
Tips for success
Description
Both the government and private sector markets use a very unique business development tool called a Capability Statement. This webinar will help you to understand the three types of Capabilities Statements and learn how to create a powerful door opener Capability Statement document, your most important business development tool. Often very few contractors know how to create an effective document and acquisition personnel are subsequently buried by generic capability statements, making it very difficult to quickly evaluate and select those that fit specific needs. Learn how to stand out by crafting a compelling Capability Statement that will capture the interest of contracting personnel, teaming partners and prime contractors.
You will also receive an exclusive TargetGov Capability Statement guide, sample differentiator questions, and a complimentary Capability Statement review and score.
**THIS WEBINAR IS CURRENTLY UNAVAILABLE FOR PURCHASE AS IT IS IN THE PROCESS OF BEING UPDATED.
**THIS WEBINAR IS NOT TO BE SHARED FOR COMMERCIAL VIEWING.