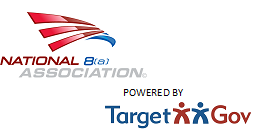 National 8(a) Association 2020 Small Business Webinar Series powered by TargetGov Presents:
With
Amy Champigny, Senior Product Marketing Manager, Deltek; Leslie Steele, Co-Founder and CEO of InterImage,  and Gloria Larkin, President & CEO TargetGov

The benchmarks revealed as part of the annual Deltek Clarity Government Contracting Industry Study have been a cornerstone in the strategic planning process for government contractors for more than a decade. Each year, leaders within the market review their business performance, as well as key internal verticals and how they work together throughout the contract lifecycle, to provide a comprehensive industry snapshot.
In 2019, small businesses saw healthy growth with a profit margin jump of more than 27%. However, the Study also identified opportunities for improvement in key areas such as human capital management and the use of industry-specific tools and technology.
How can the 11th Annual Deltek Clarity Government Contracting Industry Study results help small and medium-sized businesses navigate the current economic uncertainty and challenges to prepare for the remainder of 2020 and beyond?
Join this webinar to hear Deltek Clarity experts offer valuable commentary to help firms understand and apply the benchmarks in the most impactful ways for their business and deep dive into what it will take for small and medium businesses to effectively maneuver through these uncharted times. It is a discussion you won't want to miss!
Key takeaways:
Explores innovative approaches to departmental challenges
Key issues impacting the government contracting market
Forecasting trends
Who Should Attend:
Experienced contractors and anyone new to government contracting, business owners, Presidents, CEOs, COOs, VP's of Business Development, business development professionals, contracting professionals, sales administrative assistants, marketing research analysts, everyone involved in growing business for your company.
After registering, you will receive a confirmation email containing information to join the webinar.

About the National 8(a) Association
National 8(a) Association is a non-profit organization with a mission to provide education and guidance for all aspiring, current and graduate 8(a) businesses. TargetGov is proud to be National 8(a)'s Education Associate. TargetGov provides national expertise in federal government procurement related business development and marketing services including strategy and road map planning, contract development (GSA Schedules, BPAs, IDIQs, GWACs, etc.), capability statements, business development, proposal management, contract administration, debriefing process, minority certification services, and other expert federal contracting services.
Questions? Call us toll-free 1-866-579-1346 x 315 or email info@targetgov.com