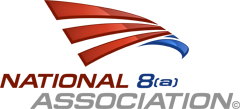 Join us for a complimentary webinar:
Now What? What to Do After the 8(a) Conference
Now On Demand

With
Paula Arevalo & Gloria Larkin
Attend this brief, information-packed webinar to help you plan exactly what to do after you attend the National 8(a) Association's government procurement conferences. Join National 8(a)'s Paula Arevalo and Gloria Larkin, for insider tips, tricks, recommendations, and the mistakes to avoid.
 Topics covered for follow-up after the event include:
Tips and tools to make the most of your efforts after the event
Who do you want to reach out to and how do you find the decision-makers
Exactly how do you reach out, what works and what slams the door
When do you contact them
What is different for prime contractors vs. government personnel
Capability Statements
How to ask for decision-maker meetings
Mistakes to avoid
Key Takeaways:
Research: free and subscription tools, what is worth it for you
Capability statement guide
Capability briefing pitch format
The Targetgov Rule of Three™
Who Should Attend:
Experienced contractors and anyone new to government contracting, business owners, Presidents, CEOs, COOs, VP's of Business Development, business development professionals, contracting professionals, sales administrative assistants, marketing research analysts, everyone involved in growing business for your company

After registering, you will receive a confirmation email containing information to join the webinar.
About the National 8(a) Association
National 8(a) Association is a non-profit organization with a mission to provide education and guidance for all aspiring, current and graduate 8(a) businesses. TargetGov is proud to be National 8(a)'s Education Associate. TargetGov provides national expertise in federal government procurement related business development and marketing services including strategy and road map planning, contract development (GSA Schedules, BPAs, IDIQs, GWACs, etc.), capability statements, business development, proposal management, contract administration, debriefing process, minority certification services, and other expert federal contracting services.
Paula Arevalo currently serves as the Executive Director of the National 8(a) Association, a non-profit organization providing resources to small businesses through education, promotion and federal contracting information to augment their levels of experience and achieve higher degrees of success. She is responsible for developing new and collaborative initiatives to expand resource pathways for small businesses. Ms. Arevalo has over 13 years of experience in small business federal contracting and has successfully enabled hundreds of small businesses to increase their respective win rates; personally assisting in securing over $100M in awards in the federal market. She is considered a subject matter expert in marketing, event management, and training coordination in the federal, non-profit and commercial arenas. In 2017 she founded Eighth Square, a woman-owned small business providing services in logistics and marketing. Ms. Arevalo obtained her bachelor's degree from the University of Florida.
Questions? Call us toll-free 1-866-579-1346 x 325 or email info@targetgov.com