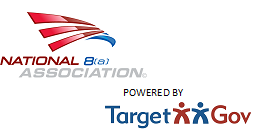 National 8(a) Association 2020 Small Business Webinar Series
Presents:
On May 27, 2020. 2:00pm ET; 1:00pm CT;
noon MT; 11:00am PT; 10:00am AKT
With
Edward D. Spenceley, a Senior Vice President of Bank of America , and Melissa Szasz, Deputy Director of the National 8(a) Association

Finances are top of mind for most businesses at this time and many have sought federal and local relief. What other options are available for business owners now and how can you access those programs?
Join Edward D. Spenceley, a Senior Vice President at Bank of America and the Government Contracting Specialist for Global Banking and Markets, and Melissa Szasz, Deputy Director of the National 8(a) Association, for a discussion on how to blend banking funding options during and after the current COVID-19 pandemic.
Key Takeaways:
• Small Business Association's Paycheck Protection Program
• Leveraging additional funding resources
• Impacts of current economic times and changes you might implement for future needs
We will also feature Q&A from the audience on what resources and information would help your business – please take the time to reply to the registration questions so that we can be sure to address your current concerns.
Who Should Attend:
Experienced contractors and anyone new to government contracting, business owners, Presidents, CEOs, COOs, VP's of Business Development, business development professionals, contracting professionals, sales administrative assistants, marketing research analysts, everyone involved in growing business for your company
After registering, you will receive a confirmation email containing information to join the webinar.

About the National 8(a) Association
National 8(a) Association is a non-profit organization with a mission to provide education and guidance for all aspiring, current and graduate 8(a) businesses. TargetGov is proud to be National 8(a)'s Education Associate. TargetGov provides national expertise in federal government procurement related business development and marketing services including strategy and road map planning, contract development (GSA Schedules, BPAs, IDIQs, GWACs, etc.), capability statements, business development, proposal management, contract administration, debriefing process, minority certification services, and other expert federal contracting services.
Questions? Call us toll-free 1-866-579-1346 x 325 or email info@targetgov.com