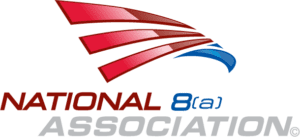 Powered by:

National 8(a) Association is a non-profit organization with a mission to provide education and guidance for all aspiring, current and graduate 8(a) businesses. TargetGov is proud to be National 8(a) Associations Education Associate in presenting a series of monthly webinars all about 8(a).
The noted webinars are available either as on-demand, or scheduled as live webinars on the noted dates. Click on each title for full details, speaker information, and to register.
Click here to sign up for webinar reminders and other complimentary business building tools.
Catch up on past offerings and register for upcoming sessions by selecting from the series below:
On Demand – Next Please! What to do After the 8(a) Conference
On Demand – What Time is the Right Time? Benefits and Timing of 8(a) Certification
On Demand – Nuts and Bolts of Getting an 8(a) Certification: Getting Your 8(a) Certification
On Demand – Strut Your Cert
On Demand – Strategies for Teaming Partners
On Demand – Target Goal Win:
On Demand – The Big Leagues: What's next – after your first contract win. Winning contract #2, 3, 4…
On Demand – The Price is Right: So What's Wrong with Your Proposal?
On  Demand – Navigate Nashville: How to Leverage Your Time at the National 8(a) Conference