Crafting a Powerful Two-Page Capability Statement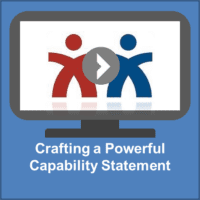 During this webinar you will learn:
What has changed
Why a second side
Exact content of the second side
Mandatory sections
Optional sections
How to use the second side
*This is a pre-recorded webinar*
Presented by: Gloria Larkin, President, TargetGov
**THIS WEBINAR IS NOT TO BE SHARED FOR COMMERCIAL VIEWING.
Description
Both the government and private sector markets use a unique business development tool called a Capability Statement. This webinar is focused on introducing the new two-page capability statement format. This version of the capability statement helps to show the prospective government client your "menu" of products and services in conjunction with an explanation of where your products and services fall in the "Normal Dollar Threshold" and the "Standard Acquisition Threshold". The new second page will allow your prospective clients to view what you have to offer easier. If your business is applying for a contract with the federal government, but you are not sure how to begin your capability statement then this webinar is the perfect starting point for you.
If your business is beginning to work as part of a team with another contractor and you are sending your capability statement to a private business than we recommend using the one-page capability statement. A webinar about how to best setup that document can be found here, and templates for the one-page capability statement can be located in our store.
You will have access to this webinar as long as you have the URL. We recommend keeping the URL and Password (provided after purchase) in a safe place so that you are able to access the video when you need it.
**THIS WEBINAR IS NOT TO BE SHARED FOR COMMERCIAL VIEWING.
*This is a pre-recorded webinar*