Why and How to Use Sources Sought Notices and RFIs to Your Advantage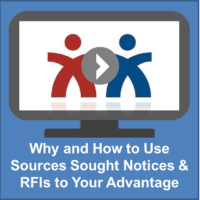 *This is a pre-recorded webinar*
Presented by: Gloria Larkin, TargetGov
You will receive a copy of the presentation, the TargetGov Guide to using FedBizOpps (FBO) to find Sources Sought Notices, and 2 myth busting memos with your purchase of this webinar.
Note: You can view the webinar two ways:
A link will be provided after you submit your order
A link will be emailed to you
Handouts will be available for download after you submit your order, located under "order details", as well as in a separate email.
Description
Federal agencies have posted an unprecedented flood of new Sources Sought Notices on FedBizOpps – over 1,600 new Sources Sought opportunities in the last 30 days! Many Sources Sought Notices go unnoticed by the businesses to whom the Federal Government would like to award contracts. The savvy business person takes time to review these opportunities, identify those that are a good fit and respond accordingly. In the know business people also use these notices to create single source awards and start agency-focused marketing campaigns. During this webinar you will learn how to respond to a Sources Sought Notice (SSN) or Request For Information (RFI) that will position your company to win contracts!
You will learn:
The purpose of these notices
The value of responding to these notices
How to respond to a Sources Sought Notice (SSN) and Request For Information (RFI)
Common mistakes made, and what to avoid in your responses
How to position your firm before and after responding
How to flip it to a sole source award
Follow up steps to responding