Fiscal Year-End Spending: Positioning Your Business to Win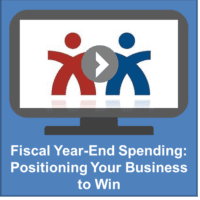 *This is a pre-recorded webinar*
Presented by: Gloria Larkin, President, TargetGov
Description
Right now, we are in the midst of the biggest spending push of the year for the federal government market. The final or fourth quarter of the year runs from July 1 to the fiscal year on September 30. While many private sector companies are slowing down for a long, sluggish summer, the savvy government vendors are actually going full speed ahead during the summer months with targeted, aggressive marketing and sales campaigns to go after the federal end of year spending rush.
Plan and position your company to take advantage of the surge in spending by attending this On-Demand webinar. You'll learn how to identify agencies that are buying your products and services, how to get in front of the decision makers. We'll discuss business development strategies by teaming and subcontracting, followed up with marketing tools, tactics and strategies, and mistakes to avoid.
Who should attend: Business owners, managers, contracts personnel, business developers, capture managers, anyone involved in building business for large and small businesses.