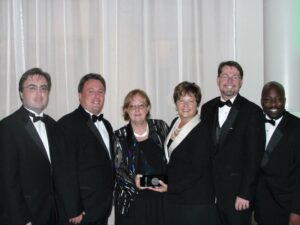 TargetGov client Patriot Taxiway Industries of Lomira, Wisconsin, has had a very, very busy and successful few years. Congratulations to them on the 6th anniversary of their Outstanding Veteran-Owned Business of the Year Award from SCORE,  a nonprofit association dedicated to entrepreneur and small business growth and education with 370 chapters nationwide.
Additionally, their OUTSTANDING Capability Statement won 2nd place at the  9th Annual Volk Field Small Business Conference Competition. Congratulations from all of us at TargetGov!
Patriot Taxiway Industries is an award winning lighting solutions provider with a mission to provide superior quality aerospace and military lighting products and services to its customers through leadership, innovation and partnerships. As a Service Disabled Veteran Owned Small Business (SDVOSB), Patriot Taxiway Industries is unique in that they bring practical knowledge in lighting design and operational military aviation experience to provide expertise in developing, manufacturing and supporting their products. Contact Kevin McDermott, Vice President, Business Development at 414-688-7276 or visit www.patriottaxiway.com for more information.