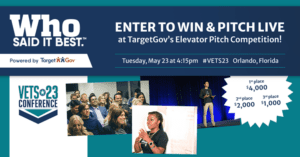 Sponsored By:           
ENTER TO Pitch in 2 easy steps
Sign-up with TargetGov at registration or at Booth 214 for a Try-Out time slot
Try out for your spot with TargetGov at Booth 214
Receive notification that you have secured your spot in the competition.
The high-energy live 90-second elevator pitch competition is open ONLY to all registered conference attendees. Every registered conference attendee has the opportunity to compete. Sign-up at the conference with the TargetGov team at Booth 214 to try-out for your chance to compete live, on stage in front of the entire conference audience gaining incredible exposure to all government attendees, primes, teaming partners and exhibitors at once.
Cash and prizes will be awarded and the judges will announce the grand prize winner at the live event on May 23 , 2023.
 
View Video Submissions from VETS22:
Video Pitch Submission: https://youtu.be/yYgHCY3esEQ
Video Pitch Submission: https://www.youtube.com/watch?v=6UYca0oGR5M
View a competitor from the Live VETS22 Competition:
https://www.youtube.com/watch?v=r2ehS2L7f2A
Not sure what to say? Watch the Charlie Mike "Perfecting Your Pitch" session on the NVSBC YouTube channel and make an appointment with the TargetGov Pitch Coaching Team by email at FAST@targetgov.com
#WhoSaidItBest #VETS23 #VETS23WhoSaidItBest #TargetGov
View VETS 23 Conference Information Here
Click here for the full conference agenda.
Enter to Compete in the Who Said It Best™ Elevator Pitch Competition at VETS23  LIVE on stage at 4:15pm, May 23rd at the conference!