PDF Version – The Veterans Business Guide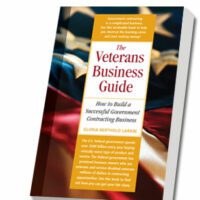 This is a PDF Version of the Book, for the physical book, click here. Once you have purchased this version, you will be able to download the PDF of the book in its entirety.
The Veteran's Business Guide is the first—and only—resource book specifically tailored to help veterans win profitable federal government contracts.
"Your book is a wealth of information that I am finding extremely important to establishing my business."

Vince Hagan
Description
You'll learn how to:
Start your own business
Use your veteran or service disabled veteran status and special resources
Maneuver through the government contracting maze
Strategize for business success
Use specific tactics to identify your best contacts
And much more…