Preparing for Success in the Federal Market Place Series: Maximizing Success as a VOSB/SDVOSB Contractor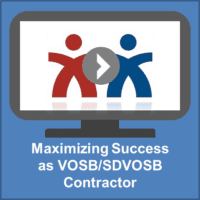 *This is a pre-recorded webinar*
The U.S Federal Government is the world's Fortune One buyer of services and products. In fiscal year 2012, agencies and the military awarded more than $45 billion to Veteran-Owned and Service-Disable Veteran-Owned Small Business. There are still many contracting opportunities available since most agencies do not met their annual 5%/3% VOSB/SDVOSB goal due to a lack of identified contractors in the marketplace. This series of webinars will help set you on the fast track to the federal market and start winning contracts.
Instructor: Jack Beecher
Description
Jack Beecher, recently retired USACE Program Manager for the SDVSB category, will highlight the USACE very successful SDVSB program and will also share with you some of the upcoming SDVSB set-asides he sees on the horizon, as well as some tips for success as you consider competing on these opportunities, followed by Q&A.
Instructor: Jack Beecher