The Ins and Outs of Joint Venture Agreements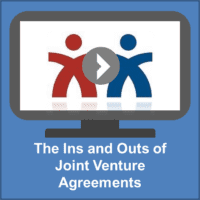 *This is a pre-recorded webinar*
Presented by: : Pam Mazza and Jon Williams, PilieroMazza
You will receive a copy a sample teaming agreement, teaming checklist and Joint Ventures for Set-Aside Contracts Chart with your purchase of this webinar.


Description
Joint ventures are a very useful tool to gain a competitive advantage and provide a winning solution for government contracts. However, to take full advantage of this tool, you need to understand how to best form and operate a joint venture.
There are many decisions that go into a joint venture, such as the type of legal entity to use, the management structure, and whether the joint venture should have its own employees. In addition, when the joint venture pursues set-aside contracts, you need to be mindful of SBA's affiliation rules as well as the special rules that apply depending on the type of set-aside contract at issue.
Join Pam Mazza and Jon Williams as they discuss more about rules governing joint ventures for federal procurement. Topics and questions to be addressed during the webinar include:
    What is a joint venture?
    Advantages and drawbacks of using a joint venture
    What legal form to use – partnership or LLC?
    Management structure and labor (populated vs. unpopulated)
    Drafting the joint venture agreement
    SBA's affiliation rules and specific joint venture requirements for the set-aside programs