TargetGov client, aEONRG was selected as an offeror on the Army Cloud Computing Enterprise Transformation (ACCENT) contract. This contract is a three-year Basic Ordering Contract with a total value of nearly $250. aEONRG is the only SDVOSB to win this contract as a prime. They will provide commercial cloud service offerings and information technology (IT) support for the Army Enterprise Hosting Facility. These requirements support the Army Data Consolidation Plan modernization and migration needs. The Army is moving designated IT applications, systems, and associated data to authorized commercial cloud service providers and consolidated data centers.
AEONRG is a certified SDVOSB that provides cost effective, timely, innovative, turn key, high quality solutions to solve federal government mandates. A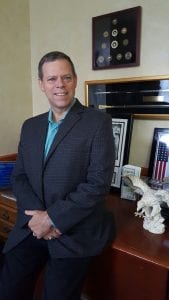 EONRG is a Pennsylvania based company. Bill Belknap, Sr. is founder and CEO of AEONRG. He is a retired Army Major who served ten years in the tank division, in the US and abroad in Turkey and Germany, and ten years in government contracting, and, at the Pentagon for the Army Science Board, then ten years at a major pharma company as a global facilities manager, Bill provides a wide array of services to include project management, management consulting and general contracting for the federal government facility data and MRO services.