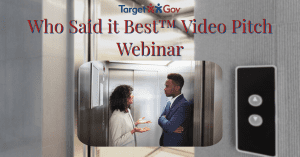 TargetGov Create Your Own Video Pitch Webinar
Wednesday, August 9th, 2023 | 2:00 pm ET
Speakers: Tina Horn, Director of Consulting / Consulting TargetGov
Kiyon Brandford, Federal Research Consultant
Are you interested in creating a powerful video pitch for your company?
We encourage you to join us on Wednesday, August 9th at 2:00 pm ET for a webinar hosted by our pitch experts Ms. Tina Horn, Chief Services Officer of TargetGov, and Mr. Kiyon Brandford, Federal Research Consultant of TargetGov.
This session will help you develop a powerful and effective video pitch capable of winning your company new business! You can use your video pitch on your website, on LinkedIn, on your electronic business card, and as a link on your capability statement.
After the webinar, you can contact TargetGov to schedule a complimentary coaching session for your personal video pitch recording. This webinar will also prepare you for the video pitch contest for the HUBZone Conference. 
Sign-Up to attend this complimentary webinar. If you cannot attend the live webinar all registrants will receive access to the recording
Anyone can learn how to create a video pitch for their company. You can learn how to create a video pitch.
Add event to calendar