Capability Statement Editable Template Bundle 2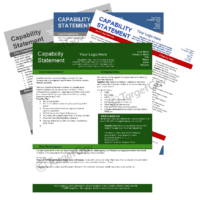 Everything you need to get started on your Capability Statement. These editable Word documents are already formatted for an outstanding Capability Statement. This four pack will give you plenty of design options. Add in your company details and additional information and you are ready to go!
Description
Use the TargetGov Capability Statement Editable Template to ensure that you have included all the information the government is looking for. This template will help keep you within the length guidelines. The bundle contains four editable templates in the following colors: Green, Grey, Blue and Grey, & Red and Blue. This product is available for download. Please note: We are unable to process payments from international locations.