Winning Contracts in a Crisis – Webinar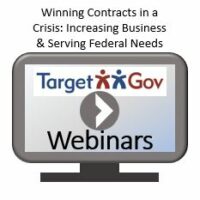 This 60-minute free webinar with Gloria Larkin , President of TargetGov, and Jenny Bonilla, Chief Operating Officer, will feature reaching decision makers, expediting acquisitions, and top tools plus some time for Q&A from the audience on what resources would help your businesses.
TargetGov has curated a 350+ page resource that will be available to all registrants. This easy to navigate reference addresses changes, links, and government agency contracting updates that will support your company as it maps out the next 3, 6, and 9 months of business.
Description
This is an exceptional time for federal contractors. All 50 states have now declared individual state emergencies and joined the President's national emergency declaration of March 13, 2020. During this time your business can rise to meet those needs. Government contracting in a crisis is not contracting as usual. The government customer is adapting to meet it's needs.  Join Gloria Larkin, President & CEO of TargetGov, for a discussion of current conditions as of May 2020. This webinar contains some COVID-19 specific and time sensitive information. However, it also contains permanent changes to contracting regulations and links to updated federal sites.
The federal government continues actively contracting. New channels and processes have opened to expedite procurement of goods and services to not just address the pandemic, but to also keep the federal government functioning. This one hour webinar will focus on what is changing to the resources available to find, pursue and win federal contracts. As a result you can will support your company as it maps out the next 3, 6, and 9 months of business.
Major Takeaways:
Expediting Acquisitions
Top Tools
Reaching Decision-Makers

Over 300 pages of supporting documents, curated to address critical contracting changes, available to webinar attendees
Click on the image below for a preview of some of the documents we have pulled together and will provide to all registered attendees.