What Time is the Right Time? For Your 8(a) Certification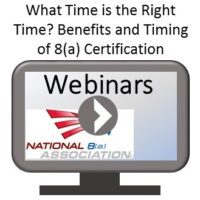 Description
Attend this brief, information-packed webinar to help you plan exactly when the time is right: Benefits and Timing to get 8(a) certified. Join national expert Gloria Larkin, President of TargetGov for straight talk and advice to use the certification as a growth tool.
Topics covered include:
• Snapshot of the 8(a) Program
• 8(a) Program benefits
• 8(a) Program qualifications
• Must you be certified to win contracts?
• Too early vs. right time
• Tips and tools to make the most of your 8(a) certification
• Mistakes to avoid
Key Takeaways:
• Timing is everything!
• Exactly what you need to succeed
• The TargetGov Rule of Three™
Who Should Attend:
All companies considering 8(a) certification including: Experienced contractors and anyone new to government contracting, business owners, Presidents, CEOs, COOs, VP's of Business Development, business development professionals, contracting professionals, sales administrative assistants, marketing research analysts, everyone involved in growing business for your company.