The Price is Right, So What's Wrong with Your Proposal?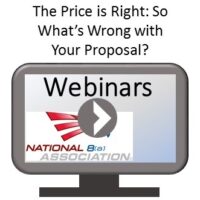 Description
Attend this informative on-demand webinar to find out what's needed to help evaluators conclude your price is right – without those pesky questions. If you think you always get the price proposal right, guess again. Join Marsha Lindquist, President of Granite Leadership Strategies, Inc who is an expert in cost proposal/grant management and development, pricing strategy, and prices that win techniques.
Topics covered include:
The cost issue that always generates a question
The key ingredient that makes the difference between acceptance & cost questions
The one assumption sellers should never make when preparing price proposals (& your technical proposal too)
Insights:
Buyers like spending time & money evaluating proposals about as much as sellers like spending time & money writing them. Shocking.  If your proposal rates highest with the lowest price, it should be a slam dunk award decision, WITHOUT discussions. But that doesn't usually happen. Why? Based on her unique position supporting both the development & evaluation of price proposals, the Marsha will share surprising insights that evaluators look for in price proposals.