TargetGov Meet the Experts™ Trademarks Made Simple Webcast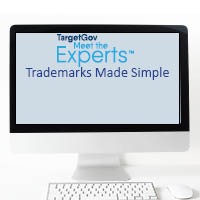 Do not rely on happenstance. Successfully growing companies are deliberate, intentional, and persistent in their work to win new government contracts and build themselves. Let's review the steps necessary to succeed in this market — where there are complexities that could be pitfalls or opportunities. Attend this session and take away the below steps and how to use these intricacies to your advantage.
1. Plan
2. Position
3. Pursue
4. Win
This month's, TargetGov Meet the Experts™ session addresses, "How to Grow and Win Business in the Federal Marketplace" where we will be joined by subject matter experts Tina Horn, Director, Consulting and members of the TargetGov Consulting team.
Description
Experienced contractors and anyone new to government contracting, business owners, Presidents, CEOs, COOs, VP's of Business Development, business development professionals, contracting professionals, sales administrative assistants, marketing research analysts, everyone involved in government contracting for your company.