TargetGov Meet the Experts™ Debriefing and Bid Protest Essentials Webcast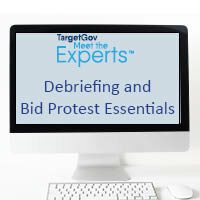 The federal marketplace is very competitive. So much so that bid protests are becoming a more frequent feature of the procurement process. Accordingly, it is critical for contractors to understand the rules and regulations governing bid protests and debriefings, and to learn how to successfully use these tools to increase contracting opportunities.
This TargetGov Meet the Experts™ session addresses "Debriefing and Bid Protest Essentials." We will be joined by experienced government contracts attorney, Maria Panichelli, who is a Partner in McCarter & English LLP's Government Contracts & Global Trade Group.
Attendees will learn:
• The fundamental concepts and considerations surrounding federal bid protests.
• What the most common protest bases are, and what to listen for in debriefings.
• To identify catalyst points and protest deadlines for different types of bid protests.
• How to take full advantage of debriefing rights, and how debriefing can affect deadlines.
• What to do when YOUR award is protested (Hint: Intervention!).
Description
Experienced contractors and anyone new to government contracting, business owners, Presidents, CEOs, COOs, VP's of Business Development, business development professionals, contracting professionals, sales administrative assistants, marketing research analysts, everyone involved in government contracting for your company.