TargetGov Meet the Experts™ Rescue Your Capability Statement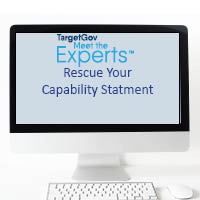 TargetGov invented the Federal capability statement. Join us for this lively and information-packed session and learn how to rescue your capability statement with the following takeaways: how to make a great first impression, who should receive your capability statement, the 5 sections of a powerful capability statement, and some tips for success from the inventors of the federal capability statement.
This TargetGov Meet the Experts™ session is "Rescue Your Capability Statement" we will be joined by our subject matter experts Kiyon Brandford, Federal Research Consultant and Natalie Peake, Federal Research Analyst, Jr with TargetGov.
Description
Experienced contractors and anyone new to government contracting, business owners, Presidents, CEOs, COOs, VP's of Business Development, business development professionals, contracting professionals, sales administrative assistants, marketing research analysts, everyone involved in government contracting for your company.