TargetGov Meet the Experts™ Yes, You Do Need a CRM Webcast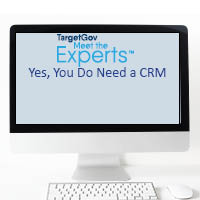 Building relationships is one of the most important aspects of your federal business development. Who you know is important and who knows you is even more crucial. Tracking your customers in a spreadsheet is a great way to begin organizing the contact information of your future customers. Join us to learn the who, what, where, when, why, and how of customer relationship management systems.
This TargetGov Meet the Experts™ session addresses, "Yes, You Do Need a CRM" where we will be joined by subject matter experts Tina Horn, Consulting, Director and Kiyon Brandford, Federal Research Consultant, with TargetGov.
Description
Experienced contractors and anyone new to government contracting, business owners, Presidents, CEOs, COOs, VP's of Business Development, business development professionals, contracting professionals, sales administrative assistants, marketing research analysts, everyone involved in government contracting for your company.