TargetGov Meet the Experts™ If You Win it, Can You Fund it? Webcast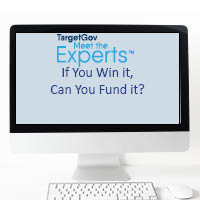 Financing is an essential key in the federal marketplace. Join us for this information-packed session on four key funding insights:
1. What options are available to you
2. What makes you "bankable"
3. Is your "bankability" sustainable
4. Debt is not a four-letter word
This TargetGov Meet the Experts™ session addresses, "If You Win it Can You Fund It" where we will be joined by our partner subject matter experts Teresa Moon, Director of Business Development and Marketing at Parabilis.
Description
Experienced contractors and anyone new to government contracting, business owners, Presidents, CEOs, COOs, VP's of Business Development, business development professionals, contracting professionals, sales administrative assistants, marketing research analysts, everyone involved in government contracting for your company.