Target Goal Win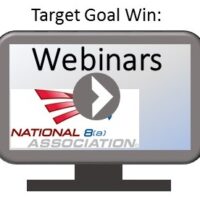 Description
Attend this informative on-demand webinar to understand the five steps one must follow to keep costs down and cash flowing.  Winning your first contract  includes many responsibilities. One of the least understood is determining if there is a need for financing, what resources are available, when to plan for financing, how much, what typical terms are, and the hurdles and roadblocks that can be avoided.
To learn more about Jackie click here:
• 25+ years in Federal Government Contracting
• Expert in Federal Small Business Contracting
Who Should Attend:
Experienced contractors and anyone new to government contracting, business owners, Presidents, CEOs, COOs, VP's of Business Development, business development professionals, contracting professionals, sales administrative assistants, marketing research analysts, everyone involved in growing business for your company.