Strut Your Cert: Marketing Your New 8(a) Certification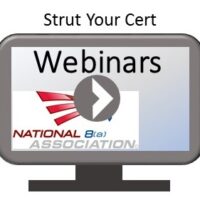 Description
Attend this informative on-demand webinar to grow your business and learn how to leverage your new 8(a) certification. Join national expert Gloria Larkin, President of TargetGov for insider tips, tricks, recommendations and the mistakes to avoid.
Topics covered include:
• How Do You Score?
• Changes in Marketing
• Business Development
• Targeted Communications
• Mistakes to Avoid
Key Takeaway:
• Research: free and subscription tools, what is worth it for you
• Capability statement guide
• Capability briefing pitch format
• The TargetGov Rule of Three™
Who Should Attend:
Experienced contractors and anyone new to government contracting, business owners, Presidents, CEOs, COOs, VP's of Business Development, business development professionals, contracting professionals, sales administrative assistants, marketing research analysts, everyone involved in growing business for your company.