Strategies to Build Your Business During the COVID-19 Pandemic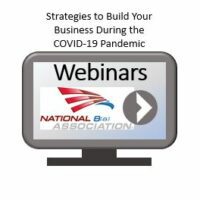 Key Takeaways:
• Small Business Association's Paycheck Protection Program
• Leveraging additional funding resources
• Impacts of current economic times and changes you might implement for future needs
Description
Join National 8(a) Association's President, Ron Perry, and Executive Director, Paula Arevalo, for an open conversation on how to implement strategies and build your business during the current COVID-19 pandemic. Resources for small businesses will be discussed in addition to how you can set yourself up for success post-pandemic.
We will also feature Q&A from the audience on what resources and information would help your business as we work with the small business community to try to provide support during this time.
Who Should Attend:
Experienced contractors and anyone new to government contracting, business owners, Presidents, CEOs, COOs, VP's of Business Development, business development professionals, contracting professionals, sales administrative assistants, marketing research analysts, everyone involved in growing business for your company
About Ron Perry, President of the National 8(a) Association
Mr. Perry is President of the National 8(a) Association and of Teya Services, LLC. – an 8(a) Certified Alaska Native Corporation. He is an Alaska Native and a nationally recognized expert in 8(a) and minority contracting including: Mentor Protégé, JV, teaming, equity buyouts, and national trends. In his role as president and founder of the National 8(a) Association Mr. Perry has been instrumental in building bridges and helping to introduce thousands of small, medium and large businesses to each other.   Examples of the organizations brought together by the National 8(a) Association; AGC (Associated General contractors), US Black Chambers, Native Hawaiian Organization, US Hispanic Chamber, Society of Military Engineers (SAME) and WIPP.
About the National 8(a) Association
National 8(a) Association is a non-profit organization with a mission to provide education and guidance for all aspiring, current and graduate 8(a) businesses. TargetGov is proud to be National 8(a)'s Education Associate. TargetGov provides national expertise in federal government procurement related business development and marketing services including strategy and road map planning, contract development (GSA Schedules, BPAs, IDIQs, GWACs, etc.), capability statements, business development, proposal management, contract administration, debriefing process, minority certification services, and other expert federal contracting services.
Questions? Call us toll-free 1-866-579-1346 x 325 or email info@targetgov.com