Spark Success in New Orleans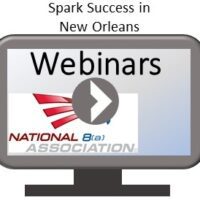 Description
Join National 8(a)'s Executive Director Paula Arevalo and Gloria Larkin for a walk-through of the National 8(a) Associations 2020 Small Business conference highlights- how to know which sessions to choose, matchmaking 101, creating your networking plan, and making the most of your time in the Big Easy.
The 2020 Conference will take place February 11-13, 2020 at the New Orleans Marriott in New Orleans, Louisiana.
Topics covered include:
Which sessions are right for you?
Matchmaking 101: tips and tricks to nail your matchmaking meets
What your networking plan?
Who Should Attend:
Experienced contractors and anyone new to government contracting, business owners, Presidents, CEOs, COOs, VP's of Business Development, business development professionals, contracting professionals, sales administrative assistants, marketing research analysts.