On-Demand Training: I Got My GSA Schedule – How Do I Flaunt It?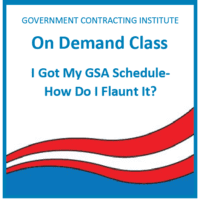 Purchase this on-demand training to gain access to all five parts of this class.
Description
GSA expert Dinora Gonzalez and federal contracting expert Gloria Larkin team up to teach an on-demand class focused on how to market and generate revenue with your GSA Schedule.  Create the right environment to nurture, maintain, and successfully sell your products and services to the government customer.
Who Should Take This Class
Sales and business development professionals, capture professionals, inside and outside sales representatives, managers, systems and administrative support, marketing professionals, public relations professionals, business owners and anyone involved in making or supporting the government sales process in your company.
Instructors
Ms. Gonzalez retired from the General Services Administration (GSA) as its Regional Subject Matter Expert (SME) in the Federal Government's Small Business procurement programs. She is an expert on the GSA Schedule Program. As the Agency's Southeast Small Business Technical Advisor, she was the contracting officer's "go-to" advisor for small business contracting. Ms. Gonzalez implemented contracting training programs with the small business community. She facilitated teaming arrangements for large contracts; reviewed acquisition plans, subcontracting plans, and solicitations to ensure small business participation. Dinora is an Army Veteran; a 1987 cum laude graduate of Georgia State University; and, in 2005 received a Masters of Public Administration (magna cum laude) from Andrew Jackson University in Birmingham, Alabama. She retired from GSA in 2011.
Gloria Larkin is President of TargetGov and a nationally known speaker, author, trainer and federal contracting business development expert. Her expertise has developed through creating TargetGov and helping large and small businesses nationwide win billions of dollars in federal contracts. Ms. Larkin has been interviewed on MSNBC, quoted in the Wall Street Journal, INC Magazine, INC.com, and TheStreet.com. She is an expert author with articles regarding federal business development published in local, regional, national and international publications. She is the author of "The Veterans Business Guide: How to Build a Successful Government Contracting Business" now in the fourth printing! (book & Kindle) and the "The Basic Guide to Government Contracting: How to Sell Your Services and Products to the U.S. Federal Government".
Topics Covered
Dinora will teach you the requirements and good practices for your GSA Schedule. By the end of Dinora's sections, you will learn how to:
Understand the contract requirements
Maintain compliance
Prepare for the Contractors Assistance Visit (CAV) review
Use the e-tools
Establish correct accounting practices
Implement a successful compliance program
Report accurately and efficiently
Become ever ready for virtual audits
Maintain good practices.
National federal contracting expert Gloria Larkin will teach you how to market and generate revenue using your GSA Schedule. By the end of Gloria's sections, you will learn how to:
Establish recommended marketing activities

Registrations
Web Site
Capability Statement
White Papers
Lead Generators
Vendor Outreach Meetings
Debriefings
Social Media, Blogs
Public Relations
Advertising: TV, Radio, Print

Cultivate relationships

Match making pitches
Entry email contents
Secrets to success

Create capability statement content

Call it a capability statement
Core competencies
Past performance
Differentiators
Company data

Distinguish yourself from competitors
Use PPIRS.gov as an advantage
Create repeatable, successful sales tactics
Put together a daily action plan for GSA sales success that include:

Sales and revenue Goals
Resources
GSA eBuy
Relationships and registrations
Value proposition & differentiators
Required collateral material content
Targets: agencies, primes, teaming partners
Simplified action steps for success
Mistakes to avoid

Understand decision maker identification
Use proprietary FAST® checklist provided
Develop business through Sources Sought Notices
Fiscal Year End Tactics