On-Demand Training: Government Sales Boot Camp: Best Practices for Success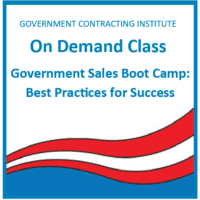 Purchase this on-demand training to gain access to all six parts of this class.
Description
Overview
Have you ever wondered what a business development, sales, or marketing person does every day that results in revenue growth? What steps do they take, what research do they perform, how do they reach decision-makers, what is their secret to getting the important meetings, what follow-up needs to be done?
Government sales and marketing has developed through the years into a complicated process understood only by those with many years of trial and error experience. Gloria Larkin, CEO and founder of TargetGov – whose clients have won billions of dollars in federal contracts leads this hands-on class and provides an action plan that includes all required processes, procedures, and tasks any government sales person or sales team must employ in order to increase revenue, even before the end of the year.
This unique sales and marketing process class is designed as a realistic every-day sales and marketing activity focused class.
Who Should Take This On-Demand Class
Sales and business development professionals, capture professionals, inside and outside sales representatives, managers, systems and administrative support, marketing professionals, public relations professionals, business owners and anyone involved in making or supporting the government sales process in your company.
Topics Covered & Key Take-a-Ways
Sales Drivers
Discussion of Revenue Goals in the Government Market
Examples given and related level-of-effort required discussed
Relationship Goals
Registrations
1. Create a multiple registrations source document
2. SAM
3. SBA Profile (SBDS)
4. Agency Specific: DoD, Civilian, Intel
5. Prime Contractors' & Teaming Partner registrations
NAICS Codes and PSC Codes: Current and recommended
Value Proposition/Differentiators
Discussion, checklist and identification
Size Standards: How your position as a large, mid-size or small business affects sales and marketing strategies
Decision Makers
In the government and with teaming partners
Location and access
Budgets and Timeline: How this affects your sales and marketing calendar and planning to leverage to your advantage
Use of Purchasing Thresholds in Sales and Marketing Tactics and Purchase Timeline: From under $3,000 to over $1 Billion
Purchase Vehicles
1. Credit Cards
2. GSA Schedule
3. GWACS, IDIQs, MATOCs, SATOCs, Task Orders, etc.
Tools
1. CRM System
2. Business Card
3. Website
4. Capability Statement in Word template
5. News Release concept and template
6. Social media: using LinkedIn, Facebook, Twitter and YouTube
7. Advertising: Print, multi-media, TV, radio
Targeted Agencies, Prime Contractors & Teaming Partners
1. Targeted Agencies
2. Targeted Prime and Teaming Contractors
3. Socioeconomic Certified Teaming Prospects
4. Teaming and Joint Ventures
5. Events in FBO and by Agency
Market Intelligence
Past contracts
Forecasts
Current Opportunities
Future Opportunities
Resources (we will have live access to subscription services for comparison)
Simplified Daily Sales and Marketing Process
1. With Federal Agencies
2. With Prime Contractors
Contracting Opportunities
1. Current Opportunities: real examples
2. Blank Sales and Marketing Process Form for each targeted opportunity
Decision-Maker Meetings
1. Capability Statements and Capability Briefings
2. Asking for and getting Capability Briefings
3. Post Award Debriefing Process
4. Additional Strategies and Tactics
Review of the Daily Year-Long and Fiscal Year End Sales Processes
Strategies
For products and services
Proactive
Reactive
Labor-intensive
Automatic
Tactics
For products and services
What works and what does not
Guerrilla-style
Deep-pockets-style
Events
Advertising
Communications
 Common mistakes and blunders that alienate customers
 Top tips that involve and strengthen customer relationships
"…After working in the DoD environment for the past 12 years, I have found the acquisition process the most frustrating aspect of doing business with federal government.  I attended "Government Marketing and Tactics To Build FY2015 Revenues" and "Strategies and Government Sales Boot Camp:  Best Practices for Success" and both were extremely informative and provide valuable insight into the federal government contracting process.  It was obvious from the start that the trainers were very experienced in the domain and provided insight specific to helping businesses navigate through the overwhelming government contracting process.  I believe between the course material and guidance provided in these training courses some of these frustrations will be alleviated in the very near future…." Director of Programs, Focused Support LLC
Custom Training
The Government Contracting Institute offers Custom Training for all of our courses, including this one. Click here to fill out our contact form and we will be in contact with you shortly.
Instructor
Gloria Larkin is CEO and Founder of TargetGov and a nationally known speaker, author, trainer and federal contracting business development expert. Her expertise has developed through creating TargetGov and helping large and small businesses nationwide win billions of dollars in federal contracts. Ms. Larkin has been interviewed on MSNBC, quoted in the Wall Street Journal, INC Magazine, INC.com, and TheStreet.com. She is an expert author with articles regarding federal business development published in local, regional, national and international publications. She is the author of "The Veterans Business Guide: How to Build a Successful Government Contracting Business" now in the fourth printing! (book & Kindle) and the "The Basic Guide to Government Contracting: How to Sell Your Services and Products to the U.S. Federal Government".
To learn more about Gloria Larkin click  Here