National 8(a) Association Webinar Series powered by TargetGov Webinar: Strategies For Teaming Partners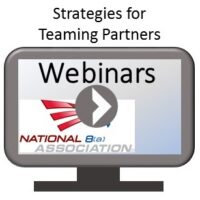 Description
Attend this informative on-demand webinar to  learn how to structure your teaming agreements. With multiple award contracts lasting years being so prevalent, the competition is fierce. Companies need to team with other firms to leverage their strengths to submit a winning proposal. A prime and subcontractor on such proposals have mutual and conflicting interests when teaming.
Topics covered include:
• Ground Rules to Pursue Contracts
• Ground Rules to Perform Contracts
• Strategies for Sub/Prime Roles
Who Should Attend:
Experienced contractors and anyone new to government contracting, business owners, Presidents, CEOs, COOs, VP's of Business Development, business development professionals, contracting professionals, sales administrative assistants, marketing research analysts, everyone involved in growing business for your company.