GSA Advantage! Refresh Your Experience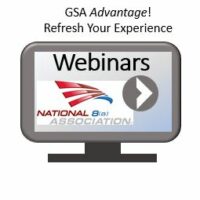 Key Takeaways:
GSA Advantage! unpacked at a high-level
Navigation tips
Strategies that organizations of all sizes can employ to refresh their interactions with GSA Advantage!
Description
Join National 8(a) Association's Deputy Director, GSA's  Product Manager for GSA Advantage! John Burke, and GSA Advantage Systems Kristine Jarvis for an open conversation on the May 2020 update and release of the GSA Advantage! System.
GSA Advantage! Refresh Your Experience provides a general overview of the GSA Advantage! platform, highlighting the new changes of the "technology refresh" upgrade. In early May, the Advantage team released the newly redesigned site to the general public. This 1 hour free webinar presentation is a good starting point for any new users to the Advantage! platform, and it serves as a good refresher to highlight changes for more experienced system users.
This new technology refresh release offers:
Improved look and feel: A new user interface with changes from direct customer feedback.
Compliance: GSA Advantage! is fully compliant with U.S. Web Design Standards and the 21st Century Integrated Digital Experience Act.
Designed for mobile: A site layout that is fully responsive to you on any size screen or device type.
Easier to find what you need: Fewer pages to navigate, giving you access to the latest information.
Less clutter: More breathing room throughout the site that will make it easier to find what you need.
Who Should Attend:
Experienced contractors and anyone new to government contracting, business owners, Presidents, CEOs, COOs, VP's of Business Development, business development professionals, contracting professionals, sales administrative assistants, marketing research analysts, everyone involved in growing business for your company
About the National 8(a) Association
National 8(a) Association is a non-profit organization with a mission to provide education and guidance for all aspiring, current and graduate 8(a) businesses. TargetGov is proud to be National 8(a)'s Education Associate. TargetGov provides national expertise in federal government procurement related business development and marketing services including strategy and road map planning, contract development (GSA Schedules, BPAs, IDIQs, GWACs, etc.), capability statements, business development, proposal management, contract administration, debriefing process, minority certification services, and other expert federal contracting services.
Questions? Call us toll-free 1-866-579-1346 x 325 or email info@targetgov.com