TargetGov Meet the Experts™ Fuel Your Federal Growth Webcast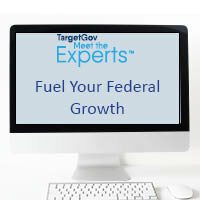 Secrets to Effective Pipeline Development to Increase Federal Business Now Through September 30
Very few companies have a large enough planned pipeline to position themselves to win more federal contracts from now through September 30, the federal fiscal year-end (FYE).
Attendees of the 30 minute power-packed interactive webcast learn the answers to:
1. How large should a pipeline be to reach FYE goals?
2. Is there time to diversify outside of current customers?
3. How to promote and close services contracts and task orders in just a few months?
4. How can you launch and sell new products in such a short period of time?
Description
Experienced contractors and anyone new to government contracting, business owners, Presidents, CEOs, COOs, VP's of Business Development, business development professionals, contracting professionals, sales administrative assistants, marketing research analysts, everyone involved in growing business for your company.