Aw, Nuts!…And Bolts of Getting Your 8(a) Certificaiton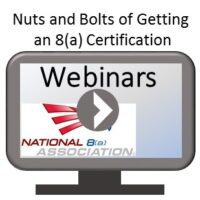 Description
Attend this informative on-demand webinar to learn the ins and outs of getting your 8(a) certification. Join national expert Gloria Larkin, President of TargetGov for insider tips, tricks, recommendations and the mistakes to avoid.
Topics covered include:
• 8(a) Program Eligibility Requirements
• Does Your Business Qualify? Tools to Check
• How to Navigate the 8(a) Certification Application Process
Key Takeaway:
• Updated, expedited SBA 8a submission process
Who Should Attend:
Anyone considering 8a certification including experienced contractors and anyone new to government contracting, business owners, Presidents, CEOs, and Founders.