Advanced Federal Marketing Mastery™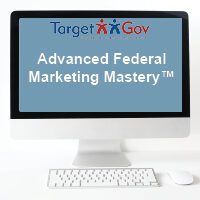 Topics Covered & Key Take-a-Ways
What's New in How the Federal Marketplace Functions
TargetGov FAST® WIN Process & Sales and Marketing Funnel™
Artificial Intelligence and Data Scraping Tools in Procurement
Standing Out To Government and Prime Contractor Decision-makers
Differentiators & Your Value Proposition
The Value of Customer Research
Your Secret Weapon for Success: CPARS and Your Internal Customer Service Process
Description
Overview
Advanced Federal Marketing Mastery™ is a seven-part virtual training with companion workbook to guide you through the technique and timing of your own individual company-focused marketing plan for success in the federal government marketplace. As you progress through the series with our expert instructor, Advanced Federal Marketing Mastery™ will show you how to set the stage for growth by providing tools you can utilize in your proactive marketing, sales, business development and capture efforts. Whether you have tens of millions of dollars in federal revenues to start with or are just beginning in the federal marketplace, you will find specific actionable information in this training that will help you map and begin to attain your goals.
This virtual training is geared towards all contracting levels in the federal marketplace; starting out, mid-level, to experienced. With over 100 pages of actionable tools and techniques you can begin to change and shape an effective marketing approach to the federal customer.
Who Should Take This On-Demand Virtual Training
Business development professionals, capture professionals, inside and outside sales representatives, managers, marketing professionals, public relations professionals, business owners and anyone involved in growing revenue or supporting the government sales process in your company.
Topics Covered & Key Take-a-Ways
What's New in How the Federal Marketplace Functions
TargetGov FAST® WIN Process & Sales and Marketing Funnel™
Artificial Intelligence and Data Scraping Tools in Procurement
Standing Out To Government and Prime Contractor Decision-makers
Differentiators & Your Value Proposition
The Value of Customer Research
Your Secret Weapon for Success: CPARS and Your Internal Customer Service Process
Custom Training
For a deeper dive into this process, accelerate market entry, increase revenues, and achieve higher ROI; see exactly what working with our team of experts through the KickStart Program® or FAST® Process can do for you by clicking here to set a time to talk about your company's growth.
Instructor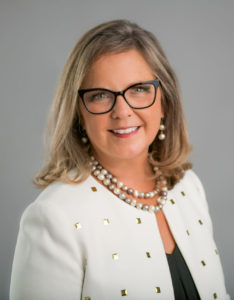 Gloria Larkin is CEO and Founder of TargetGov and a nationally known speaker, author, trainer and federal contracting business development expert. Her expertise has developed through creating TargetGov and helping large and small businesses nationwide win 7 billion dollars in federal contracts. Ms. Larkin has been interviewed on MSNBC, quoted in the Wall Street Journal, INC Magazine, INC.com, and TheStreet.com. She is an expert author with articles regarding federal business development published in local, regional, national and international publications. She is the author of "The Veterans Business Guide: How to Build a Successful Government Contracting Business" now in the fourth printing! (book & Kindle) and the "The Basic Guide to Government Contracting: How to Sell Your Services and Products to the U.S. Federal Government".
To learn more about Gloria Larkin click  Here