Event Date: 7/26/2022 - 7/26/2022
Develop Marketing Strategies to Breakthrough the Government Gatekeepers
July 26, 2022 1:00pm-1:30pm
Join TargetGov's Subject Matter Expert Tina Horn, Director, Consulting at TargetGov for "Develop Marketing Strategies to Breakthrough the Government Gatekeepers" webcast.
We heard from the DHS Procurement Innovation Lab (PIL) on how they're using SAM, FPDS, CPARS, and other federal data sources and building and applying AI tools to find vendors who meet various criteria. GSA is completely revamping their tools and interfaces to leverage these same technologies. What does that mean for contractors? How are savvy contractors making sure that they stand out?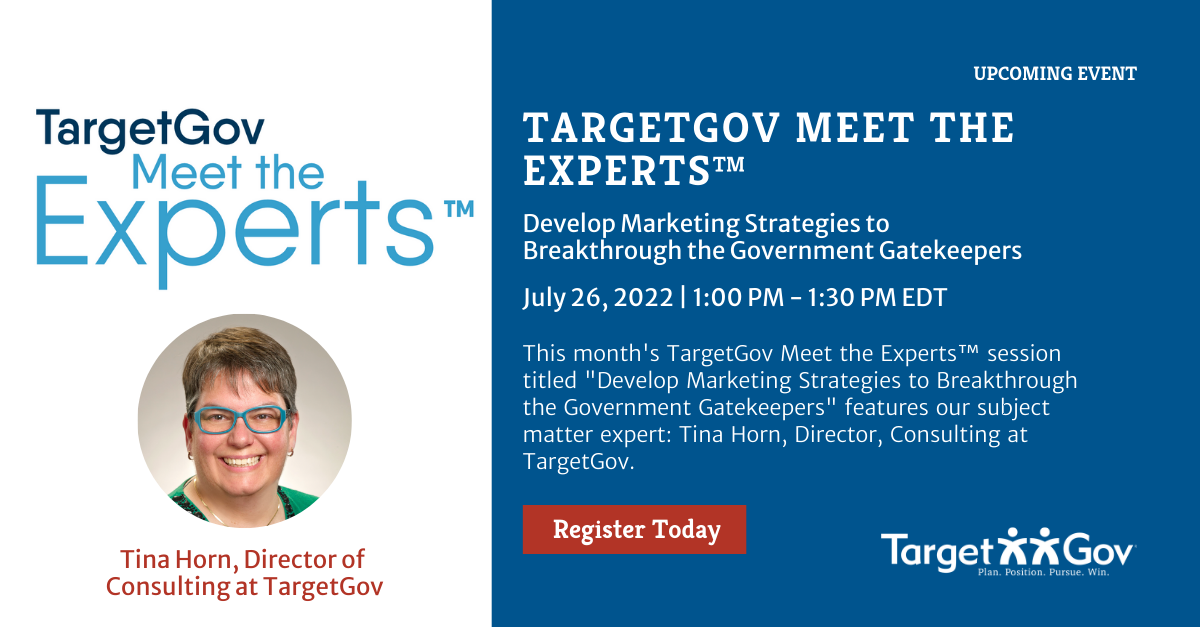 Cannot attend in-person? Register and receive the recording and all handouts for access at your convenience.
Forward this information to your colleagues and and friends who could benefit from developing marketing strategies to breakthrough the Government gatekeepers.
Learn more about the TargetGov KickStart Program® and the TargetGov FAST® Process by contacting us directly at 410-579-1346 x325.
View our digital resources here.