Event Date: 10/25/2022 - 10/25/2022
October 25, 2022 1:00pm-1:30pm EDT
This month's TargetGov Meet the Experts™ session addresses "How to Grow and Win Business in the Federal Marketplace" where we will be joined by our subject matter experts Tina Horn, Director, Consulting and members of the TargetGov Consulting team.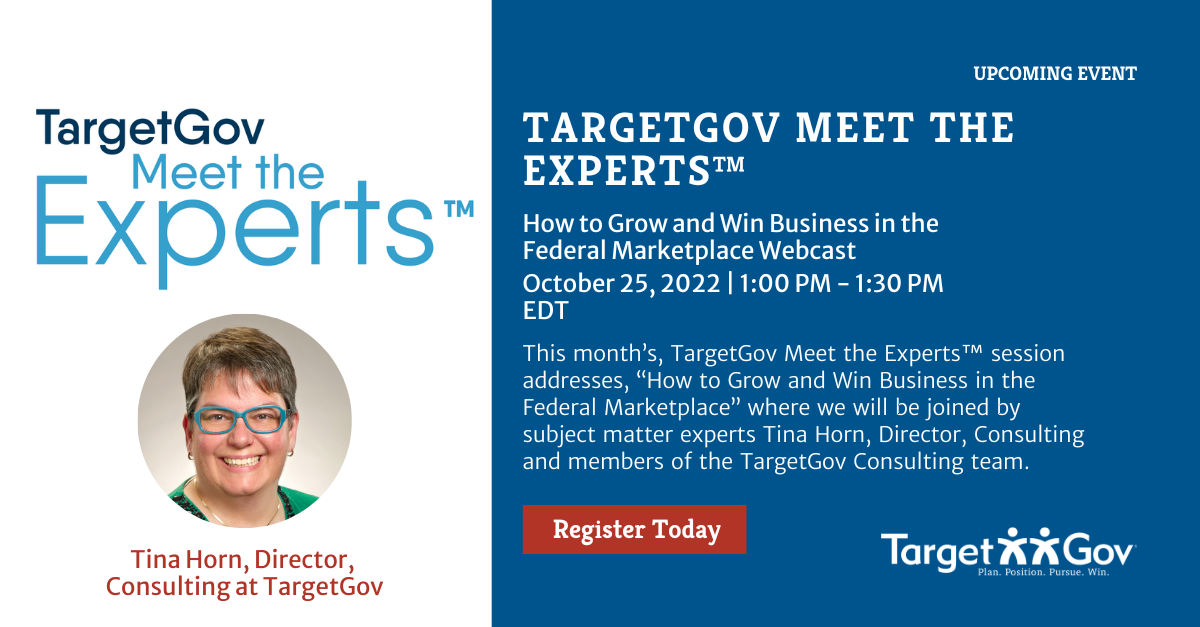 Do not rely on happenstance. Successfully growing companies are deliberate, intentional, and persistent in their work to win new government contracts and build themselves. Let's review the steps necessary to succeed in this market — where there are complexities that could be pitfalls or opportunities. Attend this session and take away the below steps and how to use these intricacies to your advantage.
1. Plan
2. Position
3. Pursue
4. Win
Cannot attend in-person? Register and receive the recording and all handouts for access at your convenience.
Forward this information to your colleagues and and friends who could benefit from about growing and winning business in the federal marketplace.
Learn more about the TargetGov KickStart Program®  and the TargetGov FAST® Process by contacting us directly at 410-579-1346 x325 or email us at FAST@TargetGov.com.
View our digital resources here.