Event Date: 11/22/2022 - 11/22/2022
November 22, 2022 1:00pm-1:30pm EDT
This month's TargetGov Meet the Experts™ session addresses "Trademarks Made Simple" where we will be joined by our partner subject matter expert Radiance Harris, Esq. best selling author, speaker, founder and managing attorney of Radiance IP Law.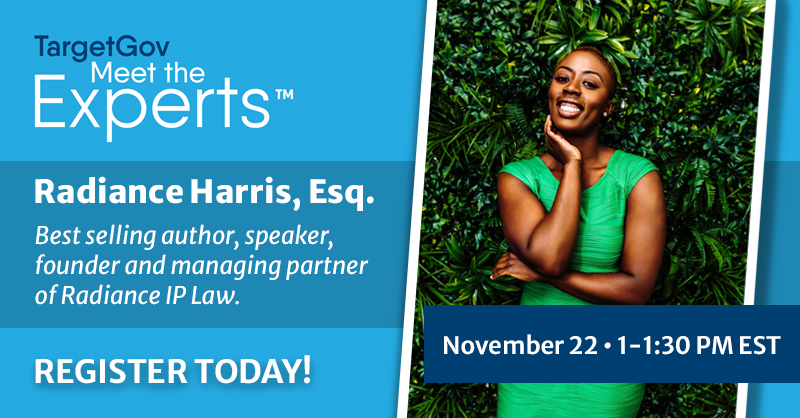 This webcast will cover trademark basics and the U.S. federal trademark registration process for government contractors along with Q&A. Attendees will learn:
1. What a trademark is.
2. Why trademarks are important for government contractors.
3. The U.S. federal trademark registration process.
4. Benefits to obtaining a U.S. federal trademark registration.
Cannot attend in-person? Register and receive the recording and all handouts for access at your convenience.
Forward this information to your colleagues and and friends who could benefit from Trademarking.
Learn more about the TargetGov KickStart Program®  and the TargetGov FAST® Process by contacting us directly at 410-579-1346 x325 or email us at FAST@TargetGov.com.
View our digital resources here.